Homes for sale Lake Murray in Columbia SC – an approximately 50,000 acres +/- reservoir that came as a result of damming the Saluda river in 1930s. It is currently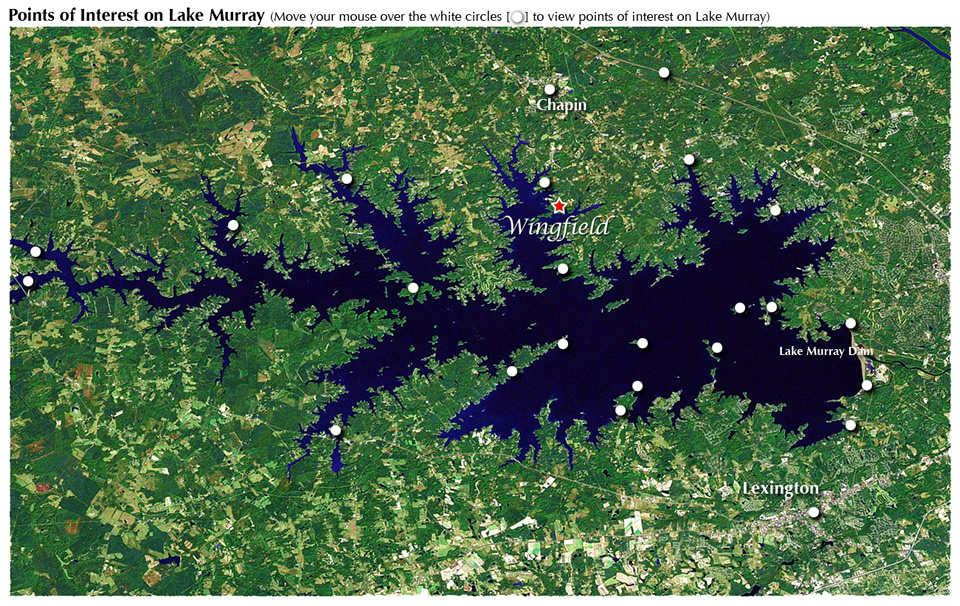 the 10th largest man made lake in the USA and is named after the engineer who originally designed the plans for the hydroelectric project; William Murray. There is almost 500 miles of shoreline which make lakefront water view homes very desirable and available. 
Oct 2013 SCE&G (South Carolina Electric and Gas) & Government officials did an intentional draw down to enhance the water quality and an added benefit to the draw-down is that this will give lake residents and businesses roughly a month at the lower level to make dock repairs and shoreline improvements that are permitted by SCE&G's Lake Murray Shoreline Management Plan," said the chief director.
Lake Murray is about 20 mins drive from metropolitan Columbia SC, or 15 miles essentially. If you're considering living on or near Lake Murray you're likely going to want to live in either Lexington, Irmo, or Chapin as they are closest to town, dining options, shopping and hospitals. 
Lake Murray fishing is one of the best in the nation, and has been and is regularly home to many BASS PRO & FLW PRO fishing events including the Bassmaster Classic, and many countless other noteworthy angling events. It is home to such species as: large mouth bass, small mouth bass, pickerel, crappie, blue gill, shell crackers, catfish(es), gar, stripped bass, white bass, herring, shad, carp, sunfish & more. 
Marinas on Lake Murray are available for those who want to own and keep a boat if you don't already own a house on the lake, however for those who wish to own a house on lake murray SC, you can search here for all the MLS listings that Lake Murray has to offer. 
Search All Homes NowMLS Listings
NEIGHBORHOODS WITH MARINAS ON LAKE MURRAY SC
Lake Murray is primarily surrounded by 7 towns the three most well known and largest towns where real estate is readily available around the lake, both homes and land lots: Irmo (one of the larger), Chapin, and Lexington (also large). The other smaller towns that surround Lake Murray, although more rural are Leesville, Gilbert, Saluda, and Prosperity. 
LAKE MURRAY SC REAL ESTATE INFO
Lake Murray SC is comprised primarily of single family homes with most of them located in what is considered Columbia, but is really the town of Irmo. The other two largest towns are Lexington & Chapin mentioned above where the vast majority of properties for sale will be simply because of the fact there is more shoreline. Most of Lake Murray is not considered a flood zone although the "2015 flood" when SC endured what was said to be a once in a lifetime 1000 yr rainfall there were significant problems with flooding and the lake officials were forced to open the emergency dam for the first time since the dam's construction. 
There are a few nice restaurants on the lake, and many marinas to keep your boat if you don't purchase a house with it's own dock. However, if you do purchase a home with a dock it is wise to know that there are rules & restrictions to building a dock on the lake. 
If you're into golf and lakefront living then you will want to look into Timberlake Plantation & Country Club in Chapin SC. This lakefront master planned community offers a country club and waterfront living.